Connecting Simply
Connectors & cables manufacturer
Since 1981, ANTELEC provides designers of electronic professional applications with its expertise entirely focused on connectors.
This expertise is the result of investments in technical and human resources, specifically :
A local design capability and design tools
A technical and engineering assistance
A manufacturing line for prototypes and mass production
A controled quality process and tracability.
Browse Antelec expertise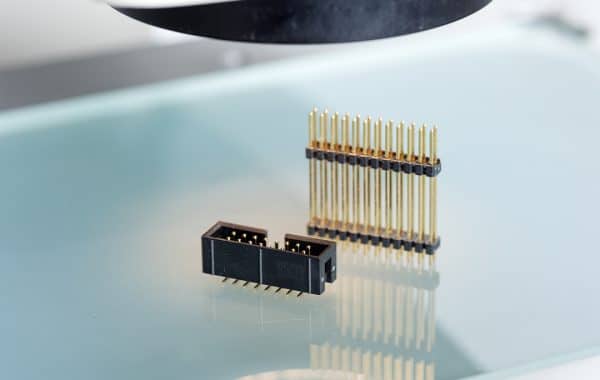 Design Capability and On-line tools
A local design capability and tool to ease the conception
Equipped with performing CAD softwares and experts in web langages, our design engineers, based in France, offer on-line engines and tools that are necessary to design electronic applications, and precisely:
A board-to-board connector configurator
A HE10 and board-to-wire cable configurator
Search engines with filters, by parameters or by cross-references
A complete technical on-line catalog
All these tools are design facilitators. They allow the user to define completely by his own, the connector or the cable that will perfectly fits his application. After few clics, the user receives on his mail box the 2D or 3D drawings, in all popular formats and the technical specifications of all products of the catalog.
Support & Engineering
An on-line chat, application technical engineers, drawings and quick offers.
In case of technical issue, the designer can chat with our technical team.
Our application engineers can also visit the design in his office in order to analyse the application into more details.
The design and method department supported by the application designers will then propose to adapt the connector or the cable to answer the issue. A drawing and a price offer will be quickly addressed.
Prototypes and Production
A production line for prototypes and small volume in France, manufacturing lines for mass production in Asia
Thanks to an adapted set of equipments and machines, our prototype line of board-to-board connector, HE10 and board-to wire cables, located in France, provide the designer with short lead time samples. The same manufacturing line can produce small volume with high reactivity such as one week.
The mass production is managed by our asian lines offering the necessary competitivity for high volume application. These productions are shipped through a permanent flow between our hub in Asia and our french headquarter, allowing short lead times such as 6 to 8 weeks.
Quality Approach
A Quality System Managment ISO9001 v2015 and a robust tracability
Our processes, ISO 9001-2015 certified, are controled by a Quality System Managment in continued improvment,. Our productions are controled by our french and asian teams, equipped by the necessary equipments to guarantee all tests related to connectic : dimensions, electrical parameter, retention, mating/unmating ; crimping, temperature and moisture resistances, solderability…
The test and lot tracabilities are guaranteed by the logging of test protocols, test reports and lots. Physical tracability is guaranted on sensitive products by the conservation of samples of each lot in bank.